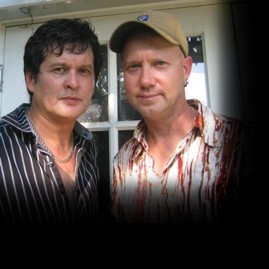 Premier Los Angeles acoustic duo, Crimson Crowbar began in 1993 when David Shelton phoned his long time friend Frank Simes to do some "unplugged" shows. The duo began performing at nightclubs in Pasadena to standing-room-only audiences, then moved on to play in Hollywood at concert venues, such as The House of Blues, Opium Den, The Viper Room, and Billboard Live (now Key Club). Their reputation steadily grew as they continually amazed audiences with their abilities, passion and sound. In early 2005, Charlotte Church asked them to open the show for her at the Aladdin Hotel in Las Vegas to a sold out crowd of 7000.
Their original tunes combine memorable melodies, unique harmonies and jagged guitar riffs, with satirical lyrics full of irony, black humor, and slapstick. Frank and Dave have written and produced three albums, entitled "Gag," "Angry Inch," and "Dopalicious" on their own label, Doink Records and are currently working on their fourth (as yet untitled) record due out in 2006.
Their live performances are a mix of unbridled, youthful enthusiasm strewn with wicked wit and whimsy. Along with their originals, Crimson Crowbar plays seemingly impossible renditions of "Whole Lotta Love," "Strawberry Fields Forever," "Space Oddity," "Light My Fire," and "I Am The Walrus," continually stretching the musical boundaries of what four sets of well-oiled fingers and two acoustic guitars can do. The two of them can transform their acoustic guitars into orchestras, bongos, cellos, sitars, mandolins, and drum sets.
Crimson Crowbar's sound, energy, versatility, humor, and infectious attitude will rock you like no other acoustic duo in the known universe.

David Shelton
Since receiving his first guitar from Blue Chip Stamps at the age of 7 and playing professionally from the age of 14, David Shelton has played virtually every club in Los Angeles. His very prominent Pasadena punk band "The Gas Moguls" sold out The Ice House a week in advance on several occasions. His songs "Boys & Girls" (produced by Dusty Street of KROQ radio) and "Honkey in a Babylon" (produced by John Nelson of the Eddie Money Band) were both played in rotation at KROQ radio in Los Angeles. He then toured

England with his band Pla:haus. They wrote and recorded 2 albums (some songs produced by Steve Ferris of Mister Mister).
He appeared on three records for country artists Cosgrove/Rushing as bass guitarist and appeared live and recorded 2 records with Francesca Gregorini (daughter of Barbara Bach - stepdaughter of Ringo Starr).
David also has had moderate success in composing music for film and television. His music has been heard on shows like "The Rikki Lake Show", "Ripley's Believe It or Not", "The Tony Danza show", also "Motorcycle Mavericks" and "Garage Takeover" for the Discovery Channel. His latest accomplishment: a featured song that he and Frank co-wrote for "Major League Baseball 2006" for the Sony Playstation 2.

Frank Simes
Frank Simes has recorded, toured, and co-written songs with such artists as Mick Jagger, Roger Daltrey, Don Henley, Stevie Nicks, and David Lee Roth. Raised in Japan, Frank started early at age 14 when his band, "Sunrise," released a record on RCA Victor. Soon after, he moved to Los Angeles and his band, "The Whizz Kidds," were signed by Highland/A&M Records, and Frank's song, "Sweet Honey," the debut single, received national airplay. Since then, Simes has performed with numerous legendary musicians, including

Paul Simon, Paul McCartney, Stevie Wonder, Roger Waters, Charlotte Church, Sting, Billy Joel, Jackson Browne, and Bonnie Raitt. In 2000, Frank was a double Grammy nominee with Don Henley.
Simes has composed over 1,200 musical pieces for over 300 TV series, and continues to contribute his compositions to TV music libraries, including Paramount TV and Los Angeles Post Music. Frank has recorded and produced several albums on major labels, including an album with his own band, "Surreal McCoys," on Sony. He also composes original classical guitar pieces in the Baroque and Romantic styles, some of which were recorded by the London Philharmonic Orchestra. Frank's most recent credits include producing the last three albums for Ann Lewis on Sony Records, recording with Rod Stewart on his album entitled "As Time Goes By, the Great American Songbook, Volume II," and performing on Roger Daltrey's "Moonlighting" anthology CD and live DVD.